CHAMBER MICRO (SMALL) GROUPS
USING ALL OF WHAT THE CHAMBER DOES WELL IN LARGE GROUPS, TO CULTIVATE AND INSPIRE SMALL 'MICRO GROUP' OPPORTUNITIES TO LEARN AND MAKE MEANINGFUL CONNECTIONS.
START A GROUP, JOIN A GROUP
Micro Groups are born from the desire of Chamber members to have small group opportunities to connect, share, and learn in an open environment with fellow members and guests.  Anyone with this shared desire and a group idea can start and be a point person of a group.  Others can join and participate.  When you come, be prepared to share and learn in a conversational environment. When you leave a group, be prepared to share it with others.
BEING A POINT PERSON
As a point person, you get to establish a topic. Responsibilities beyond that are to pick a place and time for your group to meet and communicate that to your group. You'll serve as the moderator at your Micro Group gatherings, but not be required to present or lead beyond that. On occasion the Chamber will ask you to report on your groups participation. That is all.
NO SPECTATORS, ONLY PARTICIPANTS
Group attendees should come with a spirit of sharing relevant knowledge, information and news pertinent to your group's topic. Individual group members should always be looking to contribute in some way to support the gathering. Presentations by group members are fine if desired, but should not be required – and should always be done in the spirit of sharing and learning, NOT SELLING!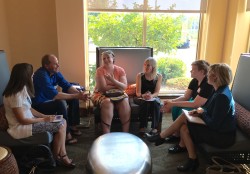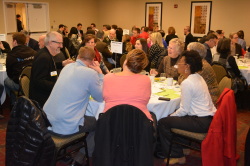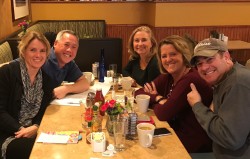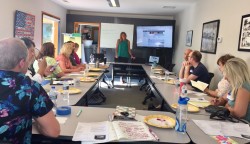 GUIDELINES FOR MICRO GROUPS
Groups should be between 3 to 12 members in size. These are Micro Groups after all!
Maintain a spirit of learning and sharing at all times.
Talk and share about what you do professionally, but do not sell.
Allow presentations if your group chooses, though do not require.  Presentations promoting specific commercial products or companies are discouraged. Share knowledge!
No tourists, everyone joins in conversations. Ask questions and be an interactive participant.
Groups can exist as long as the group desires, and you can participate in as many groups as you desire.
CURRENT MICRO GROUPS
| | | | |
| --- | --- | --- | --- |
| Topic | Lead | More Information | Meeting Time |
| Social Media | Kristi Warriner | | 3rd Tuesday of the month from 12:00 - 1:00 pm at Community Co-Works |
| Effective Leadership: Networking for Impact | Cherie Gon | This group talks about leading within business, how can you attract employees or promotions even though there isn't a hierarchy, and leadership roles. | 2nd Tuesday from 7:30 – 8:30 am at the Chamber Office |
| Women, Power & Money | Terri Buechner | Topics have ranged from the new tax law changes, to the differences in how the generations view money and career to insurance and long term care planning. | 2nd Wednesday of the month from 7– 9AM at the Villa at Middleton Village |
| City of Middleton | Mike Davis | | 2nd Thursday of the month at 8AM at City Hall in Room B |
| Joy in Leadership | Nancy Kalsow | This group explores the characteristics of strong leaders and discuss positive ways to maximize enthusiasm, engagement, and success in the workplace. | Meet monthly via Zoom. |
| New Member Connections Micro Group | Lisa Quam | Are you a member who has joined within the last 18 months or a new representative? Want to increase your professional network and learn how to more fully utilize your membership? Then this new member micro group is for you. | Email Lisa Quam for more information. |
| Non-Profit Connections | Emily Wills | This group is meant as a way for non-profit representatives to connect and learn from each other. | Email Emily Wills for more information. |
Interested in joining or starting your own Micro-Group?  Email our Membership Manager, and we can help you get started!