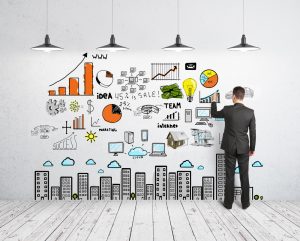 The Dane County Region offers businesses of all sizes the opportunity to start-up, expand or relocate to Middleton.
Middleton Resources
Middleton Area Development Corporation - MADC is a private loan fund administered by a local board comprised of members with a variety of backgrounds including bankers, business owners, and private investors.  MADC works in conjunction with the City of Middleton and the Middleton Chamber of Commerce on prospective projects that promote and build our growing Middleton economy.
Tax Increment Financing (TIF) - TIF is a financing tool where cities can use the increased property tax revenue from new development or redevelopment in an area (called a TIF District or TID) in order to pay for public infrastructure projects or economic development projects in the TID.
Madison and Dane County Resources
Capital Area RPC (Regional Planning Commission) -  strengthens the region by engaging communities through planning, collaboration and assistance.
Dane County Workforce Development - delivers effective and inclusive services to meet Wisconsin's diverse workforce needs, and advocates for the protection and economic advancement of all Wisconsin workers, employers, and job seekers.
Doyenne Group (Women's Entrepreneurship) -  Doyenne has opportunities to support entrepreneurs who identifies as female or a marginalized gender(s) build a scalable venture
KIVA Greater Madison - empower minority-owned and women-owned small businesses to reach their full potential.
Livability and Business Climate - (facts & stats)
MadREP (Madison Region Economic Partnership) - MadREP leads the expansion and innovation of a dynamic economy where people and businesses thrive.
Madison Black Chamber of Commerce - building Black owned businesses in greater Madison for the betterment of our entire city and community
MG&E Economic Development - MGE partners with business, education and government leaders to ensure well-planned economic growth in our service area.
SCORE – Madison Chapter – offers free business advice, business training, and numerous templates & tools.
UW-Madison's Small Business Development Center - part of a statewide network of SBDC's working with business owners and entrepreneurs to facilitate business growth and improvement, and to launch successful new companies.
WARF Upstart Program - A free entrepreneurship program for women and people of color
WBD Inc. - loan program is a unique financing option that can be used to finance fixed assets such as commercial real estate or equipment.
Wisconsin Economic Development Corporation - Working with more than 600 statewide partners, including regional economic development organizations, academic institutions and industry groups, we're enhancing our communities, supporting business development, advancing industry innovation, tapping global markets and developing a talented workforce to help Wisconsin realize its full economic potential.
Wisconsin Latino Chamber of Commerce - maximizes economic development and job creation through advocacy and programs that generate success and value for our Latino and non-Latino business community.
Wisconsin Technology Council (WTC) - dedicated to fostering innovation and entrepreneurship.
Wisconsin Women's Business Initiative Corporation - start or grow your business, finance your business, strengthen your finances