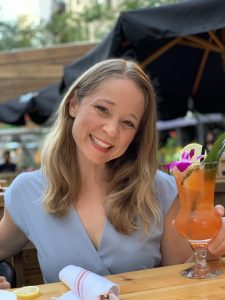 What do you enjoy the most about your industry?  I enjoy the ripple effects it has on our community and how much satisfaction I get from knowing we've made even a small difference in the lives of kids.
How do you define success?  When you've made someone's day just a little brighter.
Who inspires you?  I'm inspired by lots of people, but they're usually everyday people like parents, educators, and people leading and working in our non-profits.  But, a local legend I really admire is Diane Endres-Ballweg.  She is a philanthropist whose made an impact in so many lives over many years through her commitment and support.
What challenges do you face and how do you overcome them?  One of my primary challenges is setting and maintaining boundaries on my time.  It's a constant exercise in evaluating and learning to not have my plate 100% full.  I've gotten better with time, but every few years I need to pare down what I'm committed to in order to refocus on the things most important to me – my faith, family, and health.
What advice would you give a young professional starting out today? Start building a network right away, and always be learning something new.  The best way I found to build a network is to get involved in something you care about, where you'll meet lots of other people who share that passion.
In what ways has your chamber membership benefitted your business?  It's helped us with recognition and awareness of our mission and presence in the Middleton area, as well as connections with volunteers!
What is something you cannot live without?  Bakeries.  They're my Kryptonite, but if they're wrong, I don't want to be right.
What's something about you that most people may not know (favorite band, favorite food, childhood memory, etc.)?  I have a second degree black belt in karate, and was a state sparring champion when I was a teenager.