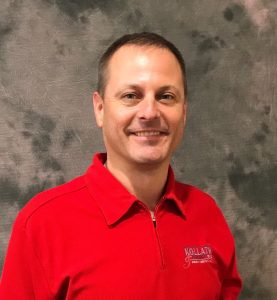 What do you enjoy the most about your industry?  First and foremost, I love working with clients.  I find it fascinating to talk to entrepreneurs and understand the what and why of their businesses in order to help them solve business problems.  Being able to work with clients in a variety of industries keeps the work challenging and fun.  It inspired us to start SustainableHR PEO, LLC, a professional employer organization (PEO) in order to help our clients with HR, payroll and benefits all in one spot.
Our job as accountants, payroll specialists, and HR experts is to understand our clients' businesses inside and out – from finances and forecasting to payroll, benefits and hiring strategies – all with the sole purpose of helping our clients grow and scale successfully. I love seeing our clients use our expertise and guidance to make good decisions about maintaining the health of their business, and then start achieving the goals they set for their organizations faster and easier.
How do you define success?  For me, success is seen and achieved in several small ways. It's when a nonprofit tells us they're breathing a sigh of relief because we were able to streamline and maintain their finances in a way that allows them to focus on their mission. It's when we can shut down the office for a day so our team can volunteer for a local charity (and have a blast doing it!). It's when we sponsor an event, and someone thanks us for our participation and tells us they've told friends and colleagues about us.  Most importantly, it is when we receive unsolicited glowing feedback from our clients about the work our employees are doing.
To me, success isn't just one thing. It's a thousand little things every day that remind me that we're making a difference.
Who inspires you?  I would say there isn't a specific person, but the other business owners I know and work with are amazing.  I draw inspiration from their successes, their overcoming failures (we all have them) and their passion for their business.
What challenges do you face and how do you overcome them?  As the owner of a growing firm, my challenges aren't unlike the challenges faced by my business-owner colleagues. Finding the right staff at the right time, scalability in a way that's sustainable, making sure myself (and our team) have enough work/life balance, etc.
We overcome these challenges by constantly analyzing what we do well and why, in addition to what we don't do well and why.  Client feedback is critical to this process.
What advice would you give a young professional starting out today?   Network, network, network.  I would encourage them to join networking groups, do coffee/lunch/drinks with people in their industry.  This has been invaluable in my career and I have always made a point to get to know new people on a regular basis, in addition to continuing relationships I already have.  Whether or not you have your own business, the more people you know, the more opportunities you will have.
In what ways has your chamber membership benefitted your business?  The connections we've made with other Middleton Chamber Members have had a big impact on our ability to continue growing and serving a variety of clients. Not only that, but because of the people and resources available through the Middleton Chamber, we've been able to really enhance the reach of our brand and get valuable business information from Chamber events.
What is something you cannot live without?  That's easy … Hawaii! I love the exploring the islands, especially Kauai. I'm going for the 13th time in November of this year!  I love the beach, hiking, food, tropical plants, body surfing…so many things.  Oh yeah, and the weather is not bad either.
What's something about you that most people may not know (favorite band, favorite food, childhood memory, etc.)?  I am undefeated as a wrestler in my lifetime.  I went out for wrestling my junior year in high school on a whim.  I trained hard to get ready for my first match.  The kid I wrestled got so exhausted during the match, he fell down and I jumped on top of him for the pin.  I disliked the wrestling coach so much that I left the gym that day and never went back.  So, 1-0 as a wrestler!