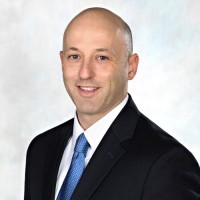 What do you enjoy the most about your industry?  The thing I enjoy most is it is fast paced, and I am able to work with a variety of experts in different specialties.
How do you define success?  There are many ways to define success to me. Most often though, if I can have a positive, memorable impact on someone's life, then that is a success.
Who inspires you?  Not very original, but my kids. I see how they learn, what they observe, and how they feel about what they observe, and it makes me want to be a better person and better father. I realize they watch what I do, how I treat others, what I prioritize. It causes me to really reevaluate what is truly important to me. My responsibility (and my legacy) is how well I prepare my kids for the future and how they will positively impact the world.
What challenges do you face and how do you overcome them? In my industry, there tends to be a perception that "All Financial Professionals are the same." There is also a perception that Financial Planning is complicated and there is a lot of "noise" out there to perpetuate that myth. My mission is to educate people and increase their financial literacy. Financial Planning does NOT have to be complicated or scary, in fact, it is rather simple.
What advice would you give a young professional starting out today?  Never burn a bridge with a person, coworker, or company. You never know when that connection will come back around.
In what ways has your chamber membership benefitted your business?  I have been able to meet people in a variety of industries and businesses I never would have met otherwise. I am always interested in meeting new people and learning about them and their role. It helps me keep up to date on trends, industries, how people are feeling about various topics, etc. It helps me be better at my job, and consequently, do a better job for my clients.
What is something you cannot live without? I will focus on food for this one...which is a toss-up between coffee, and any type of bread.
What's something about you that most people may not know (favorite band, favorite food, childhood memory, etc.)?  I have sailed most of the Apostle Islands on Lake Superior. I have the uncanny ability to still remember all the song lyrics from most of the popular 80's-90's rap/hip hop songs. Not a useful talent but it comes in handy from time to time….
Doug Belt is a registered representative of and offers securities and investment advisory services through MML Investors Services, LLC. Member SIPC. 525 Junction Rd #8100N Madison, WI 53717 608-829-0015. CRN202408-744273