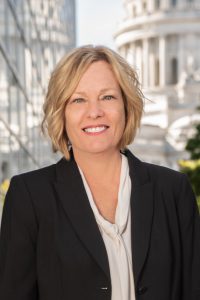 What do you enjoy most about your industry?  The people! We're in the people business!
Everyday provides the opportunity to meet & talk with people and impact lives. No one day looks the same.   From guiding relocating clients and their families into the community, partnering with recruiters enhancing their recruitment process, while building a network of professionals.
How do you define success?  Making meaningful contributions to others in my personal life and business.  Take others along with you.  If you haven't watched It's a Wonderful Life, a wonderful quote: "remember no man is a failure who has friends."
Who inspires you?  Wow!  Lots of people on my life journey. My mom's positive attitude, my dad's work ethics, my sibling's servant hearts, my husband's caring and kindness to others, my kids show me that you have to keep learning, our grandchildren love and know I need to stay active and fit to keep up.  Co-workers and my network set a good example of striving to do your best.
What challenges do you face and how do you overcome them?  Work, life, mix.  Be intentional with your time/ schedule.  Fit yourself into your calendar- after all you manage your own schedule.  When you know your why and what you are striving for, you'll know what to say yes to and you learn that no is a complete sentence.
What advice would you give a young professional starting out today?  Stephen Covey said- start with the end in mind.  All the little things you do each day will compound and add up to what you are striving for. Simon Sinek- know why you do what you do and Rick Warren's message- have a strong sense of purpose with a vision or aspiration of work that you love to do.
In what ways has your chamber membership benefited your business?  As a Middleton Chamber member for over 17 years, it's provided me the opportunity to grow my network, build relationships, and attend educational talks from experts in their field.
What is something you can't live without?  A planner! An old-fashioned paper planner that lets me write in my schedule to see it in a glance days week look like.  I like crossing off completed tasks!  No distractions to click on.
What is something about you that most people may not know?  I enjoy gardening and being outdoors! Homegrown vegetables and flowers. Water coloring paintings that I turn into cards that I mail to people.  Someday, I'd like to do a few paintings and donate them to silent auctions.