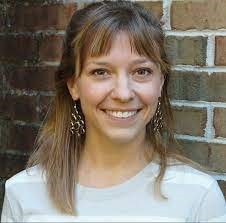 What do you enjoy the most about your industry?  I particularly love bringing people together to enjoy each other's company, to celebrate together, and to support one another. It's one of my favorite parts about working in a church.
How do you define success?  To me, success is about creating healing and hopefulness in a community. When people learn how to become better people, how to care for one another, and how to find personal wellness in their lives, then I feel like we are doing something right. I want to help people live a healthy, spiritually-grounded, and love-filled life.
Who inspires you?  The people who inspire me most are those who love what they do and show others how good they are at it. Any time I watch people in their element—whether their ability is dance, public speaking, teaching, or scientific research (or anything, really)—I am inevitably inspired. There is so much talent within humanity, and I just love to see people really go for it and put themselves out there.
What challenges do you face and how do you overcome them?  We have been trying to decide how and when to come back together as a congregation in this era of COVID. We highly value keeping everyone safe and healthy, but we miss each other's presence a great deal. We are doing a lot of listening to the local and national recommendations and then making decisions based on our needs and values as a congregation. It's a slow process, but everyone has been very understanding!
What advice would you give a young professional starting out today?  It is okay to be patient in the process of growing your career. I was very ambitious coming out of college, and I learned that reaching your big goals takes time. Give yourself permission to learn and to fail at times and even sometimes to change directions. Whatever you do, and at whatever speed, make sure to check in with your gut, for that will not lead you astray.
In what ways has your chamber membership benefitted your business?  It gets the word out there about the things we are doing, but it also helps us stay connected with our Middleton community.   
What is something you cannot live without?  This is funny question! The short answer is lip balm. Lip Smackers and all the cosmetic industry effectively got me hooked on moisturized lips at all times. I never go anywhere without it.
What's something about you that most people may not know (favorite band, favorite food, childhood memory, etc.)?  One of my favorite cuisines from around the world is Costa Rican food. While I worked for a campus ministry in Madison, I took groups of college students to an organic farm in Costa Rica. Our hosts made incredible meals for us, filled with lots of beans and plantains and fruit juice! My favorite Costa Rican breakfast is a dish of rice, black beans, eggs, and sweet plantain. So good!!