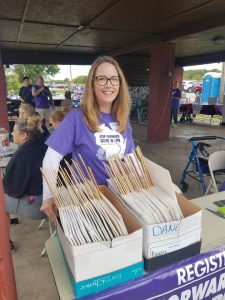 What do you enjoy the most about your industry? Sharing awareness of Alzheimer's & Dementia and the resources and support our organization (ADAW) provides to those affected by the disease.
How do you define success? Helping someone or someone's family who is diagnosed with Alzheimer's.
Who inspires you? My co-workers, they are dedicated to serving people with memory issues. Among our staff, we have decades of experience assisting seniors and families with Alzheimer's and dementia.  I am also in awe of caregivers, people who sacrifice so much and devote their lives to providing the best quality of life possible for someone with Alzheimer's or dementia.
What challenges do you face and how do you overcome them?  The pandemic has made 2020 a very challenging year for events and fundraising. For the first time in 22 years, we had to adapt our annual Alzheimer's walks to virtual walks. Despite all these challenges, we were humbled to receive an amazing show of support from our walkers.
What advice would you give a young professional starting out today?   Don't give up on your ambitions, there will always be roadblocks, learn to maneuver around them and keep yourself on track. Eventually those ambitions will become realities.
In what ways has your chamber membership benefitted your business?  By being a member of the Middleton Chamber, it's created community partnerships with ADAW and connected us to the Dementia Friendly Community.
What is something you cannot live without?  My family.
What's something about you that most people may not know (favorite band, favorite food, childhood memory, etc)?  I am a huge Star Wars fan.  I have a giant Yoda sticker on my car and I love collecting anything Yoda.