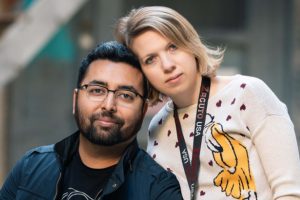 What do you enjoy the most about your industry?  Filmmaking at its best asks people to question their assumptions and to think differently. We hope that through our stories, people can see themselves as valued, appreciated and loved for the uniqueness they bring to the world. Bravebird is excited for the potential to transform the way gender and diversity is communicated and depicted on screen through our work. 
How do you define success? For us, success is finding and developing potential in people that others dismiss. It's these collaborations that help uncover problems that society is ignoring and messages that need to be shared. Ultimately, success is having our stories bring dignity and impact positive change with audiences. 
Who inspires you?  People who stand up for what's right, even when it's costly and won't benefit them.
What challenges do you face and how do you overcome them?  It's often challenging to operate in the creative space in Wisconsin, which is 50th in terms of it's funding for the arts. In addition, the disparity of diversity in the industry is significant. We're faced with changing the perception of what's possible and educating people on why things can't stay the same. 
What advice would you give a young professional starting out today?  Don't settle for things just because that's the way they've always been. Be willing to be uncomfortable to grow. 
In what ways has your chamber membership benefited your business? Bravebird is new to the Chamber - we're enjoying the new people we've met so far and are really looking forward to being more involved with what is going on in our community. 
What is something you cannot live without?  Travel, good food, working with creative people, and being part of causes that matter to us top the list of what we can't live without. 
What's something about you that most people may not know? Life is always adventurous with the Mirandas! Some fun facts about us: Alex was an actor in the entertainment industry for 15 years and made appearances in Jurassic Park and Walker Texas Ranger (among many others). In the midst of her globe-trotting travels, Noel almost got sold for camels while in the Middle East.