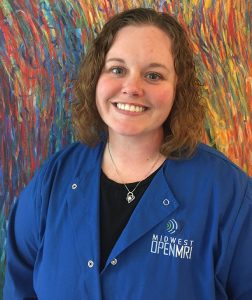 What do you enjoy the most about your industry?  The biggest thing I enjoy about my industry is helping others find a reason for their symptoms, and of course all the advancements in the technology side of the industry.
How do you define success?  Success for me is doing the best I can to provide high quality care to get the results needed to help my patients. A bonus is seeing a smile or getting a hug after the completion of a challenging exam.
Who inspires you?  My patients inspire me. Like them, I have had my own health battles and know those exact feelings/pain/fears they are going through. This inspires me to provide the best experience possible and get the results needed to help in their diagnosis.
What challenges do you face and how do you overcome them?  The challenges I face are dealing with severely claustrophobic and large patients. Both provide challenges in getting the exams needed started and completed due to various reasons.
What advice would you give a young professional starting out today?  I would remind them that the patient is the primary focus. The more comfortable you can get your patient the better exam you will get.  This leads to a better experience for your patient so, take the extra time to connect.
In what ways has your chamber membership benefitted your business?  Being part of the chamber has helped us connect with others and get our name more visible.
What is something you cannot live without?  Coffee/Tea! A warm cup on a cool morning or enjoying a cup as a relaxing end to the day are one of my simple enjoyments.
What's something about you that most people may not know (favorite band, favorite food, childhood memory, etc.)?  I am the oldest of 4 girls and growing up we had one bathroom so yes, my poor father! But I can remember always having dinner together every night. It was a way for us all to connect about our day and you never knew where the conversations would lead. Now I do the same with my family. I enjoy being outdoors whether hiking, biking, kayaking, fishing, or gardening. This MN native enjoys the beauty of nature.