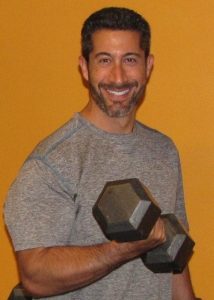 What do you enjoy the most about your industry? I enjoy that the Health & Fitness Industry is geared to improving quality of life. It's become a combination of physical, mental and emotional wellness.
How do you define success? Let me begin by telling you what success is NOT. First of all, it's not an endpoint. It's not raising a trophy above your head or crossing a finish line or listening to praises from other people or looking back at past accomplishments. To me success is what you do everyday that moves you in a positive direction.
Who inspires you? My wife, Heather, inspires me. She has an optimistic attitude, does an incredible job maintaining relationships, has a passion for learning and educating others and has never "followed the crowd".
What challenges do you face and how do you overcome them? One of the main challenges that I face as a Personal Trainer is maintaining a high level of fitness 365 days a year. I have been a certified personal trainer for 25 years, and I am not getting any younger. Hopefully wiser 🙂 I remind myself (and clients) that there is no off-season when it comes to living a healthy and fit lifestyle. Because of this, I have to train extra safe and extra smart to avoid injuries and setbacks. Unfortunately, injuries are not 100% avoidable.  The most important thing is to heal up, make the necessary adjustments and keep moving forward.
What advice would you give a young professional starting out today?  Be competent, genuine and caring.
In what ways has your chamber membership benefited your business? I met one of my very first clients in Wisconsin through a Middleton Chamber event.  The cool thing is that I still train this person today.
What is something you cannot live without?  I cannot live without exercise. I get physically and mentally uncomfortable when I have not moved my body enough.
What's something about you that most people may not know (favorite band, favorite food, childhood memory, etc.)?  I have a Mini Rex bunny named Amos.