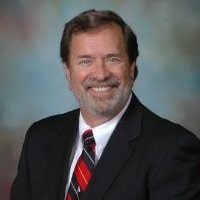 What do you enjoy the most about your industry? It is awesome the way the business community supports the non-profits in the Chamber and vice versa.
How do you define success?  Success for Asbury Church is defined by our mission:  "Reaching out and caring within, that all may know Christ"
Who inspires you? Anyone who is inspired by God and uses that blessing to bless others.
What challenges do you face and how do you overcome them?  Covid 19 has certainly been a challenge for weekly church services, volunteer meetings and staff meetings.  However, we have all been pleased with technology that allows at least to meet through live streaming and online meetings.
What advice would you give a young professional starting out today?  Know your Creator and utilize His guidance in all your important professional and personal decisions.
In what ways has your chamber membership benefitted your business? It has helped us help others with making them comfortable with talking about God openly.
What is something you cannot live without?  You know that's a loaded question for me and what the answer will be. 
  My Lord and Savior of course.
What's something about you that most people may not know (favorite band, favorite food, childhood memory, etc.)?  I have done a lot of sailing in the Caribbean, Lake Michigan and many local lakes and love the peace and calm that can come from a good sail as well as some of the challenges that come from foul weather and equipment failures.