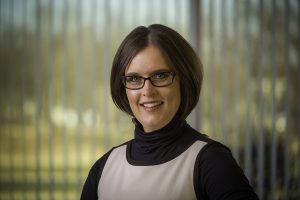 What do you enjoy the most about your industry?  I love meeting new people, listening to them and offering suggestions on how I might be able to help them and/or their business secure all their technology challenges.  I feel very strongly that customer service is the backbone of a successful business.  I have spent the last 23 years providing exceptional customer and always doing what I say I am going to do.
How do you define success?  I define success as going after your dreams, working hard and believing in yourself.  If I can have a positive impact on the lives of the people around me and inspire them to think outside the box, I feel a sense of pride.
Who inspires you?  My dad.  I learned the value of hard work at a very early age growing up on a family farm in Southwest Wisconsin.  My dad taught me the value of hard work and to always go after my dreams.  To take chances and learn from my mistakes.
What challenges do you face and how do you overcome them?   I have a strong work ethic and like to face any challenge that is thrown at me head on.   I recently went back to school after 20 years to obtain my bachelor's degree.  I took classes at night while working full time and graduated in May of 2018.  Setting goals and working hard to accomplish them motivates me to face any challenge that is given to me.
What advice would you give a young professional starting out today?  I have several nieces and nephews that I end most conversations with "make smart choices and Be Kind!"  I would tell any young professional the same thing.   Work hard, take the high road, make smart choices and always be kind.
In what ways has your chamber membership benefitted your business?  Gordon Flesch Company, Inc. has been a member for many years.  I just recently in the last couple of years became more involved serving the Middleton area with my job.  The chamber has been very supportive and helpful when asking them how I can get involved.
What is something you cannot live without?  Wisconsinites
What's something about you that most people may not know (favorite band, favorite food, childhood memory, etc.)?  I had the honor of serving on the Gordon Flesch Company (GFC) Charitable Foundation for 3 years.  GFC started a Charitable Foundation after 9/11 and since have given out over 2 million dollars to 501c3 organizations in our community.  The GFC Charitable Foundation is run by the employees. I had the honor to serve on the board from 2015-2018.  While I have been with GFC now for 23 years it was the 3 years on the board for the Charitable Foundation that I am the proudest of.  It was the most uplifting and humbling experience GFC could have ever allowed for me.