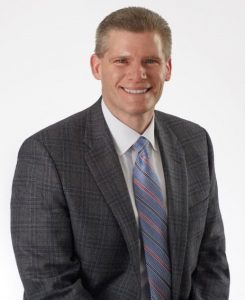 What do you enjoy the most about your industry?  Helping people achieve the American Dream of owning a home.
How do you define success?  Having a good work/family balance. I have not been able to get to 50/50 yet but I keep trying.
Who inspires you?   My wife, Terri, inspires me because she does so much for our family.  Not sure how she gets it all done.
What challenges do you face and how do you overcome them?   Professionally…My job is like putting together a puzzle.  Try and take all the financial pieces for someone and put them together and see if we can get their loan approved.
Personally…. I would say keeping our 12-year-old son off of the X-box playing Fortnight is a challenge.  We try to keep him involved with sports as much as we can but as you know in Dane County you can't play games right now.  So we are doing the best we can.
What advice would you give a young professional starting out today?   Try and network as much as possible which I realize is really hard right now.  Join committees, get involved with your community, help coach your son/daughter in sports.  Do anything that connects you with people and makes you feel good about helping them.  It takes time for people to know what you do for a living and gain their trust but if you put in the time the business will eventually come.
In what ways has your chamber membership benefitted your business?  Getting to know people and networking is one of the main benefits I see with joining the Chamber.
What is something you cannot live without?  My family first and secondly my phone.
What's something about you that most people may not know (favorite band, favorite food, childhood memory, etc.)?  I was a Dallas Cowboy fan growing up in Fond du Lac.  I still keep track of the Cowboys but the Packers are my favorite team now and will be for the rest of my life.