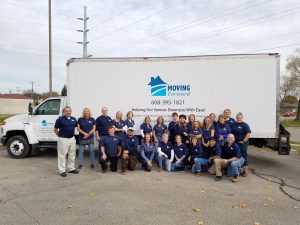 What do you enjoy the most about your industry?  Having the opportunity to assist families during times of transition and being positioned to help on many levels to relieve stress that often occurs.
How do you define success? Having an amazing staff has allowed us to provide physical and emotional support in a loving and trusting manner.
Who inspires you?  Hard working successful people.
What challenges do you face and how do you overcome them?  It has been so difficult working through ways to be able to assist our clients' needs while adhering to the restrictions put on small businesses by the state.  We have had to adapt our schedules, staff and the flow of our business to figure out ways to still provide our services to our clients.
What advice would you give a young professional starting out today?  Always be flexible and ready to alter plans at any moment.  I would also encourage professionals to strive to be debt free.
In what ways has your chamber membership benefitted your business?  I have been involved in the chamber for over a decade! I love the connections and friends I have made.
What is something you cannot live without?  I would not be successful without the love and support shown to me by my family. The amount of work owning a small business is unimaginable. Late nights, early mornings etc.
What's something about you that most people may not know (favorite band, favorite food, childhood memory, etc.)?  My favorite book is Atlas Shrugged.