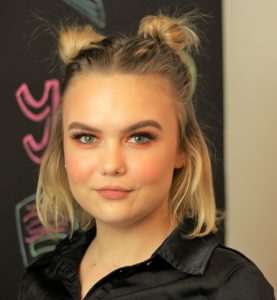 This week's Member Spotlight is Tayler Czarnezki-Rockwell, Salon Retail Manager at Be Inspired Salon.  Tayler's goal is to ensure that when clients walk into the salon, they feel at home and in a safe place.  She does her best to love everyone, remain merciful, gracious and kind.
What do you enjoy the most about your industry? What I enjoy most about this industry is that salons do more than just hair, they help people feel beautiful on the inside and out. Although I am not personally a stylist, I, like many other salon staff have a huge impact and responsibility in this industry to gain the trust of our clients, encourage them, inspire them, and help them be able to recognize their own true beauty.
How do you define success? I define success by my happiness. I think the greatest success of all is being truly happy.
Who inspires you?  My father is the most influential and inspirational person in my life. He has worked so hard to get to where he is and he never stops going. He was in the Military for 3 years, worked for American Girl for 20 years right here in Middleton, and has since traveled the world, received his Master's degree in Ministry, and so much more. He is now going back to school for his Bachelor's degree and is going to help men that struggle with addiction and mental illness. I can only aspire to do as many great things as he has and make as big of an impact on people's lives as he has.
What challenges do you face and how do you overcome them? When challenges arise, I do my best to stay positive. I was told by someone once that in the moment obstacles could not be more inconvenient, but if you look into your past and you see that you have always overcome them and come out tougher, it makes you realize that no matter what you go through in the moment try to think about how great it will make you once you surpass it.
What advice would you give a young professional starting out today? 
As cliché as it sounds, my best advice is to never give up on yourself. There will always be trials and tribulations that ultimately will make you so much stronger in the end. Also, find people that want what you want for your future. You truly are who you surround yourself with and if you surround yourself with positive and encouraging people, your closest friends and family will only grow stronger and more successful together.
In what ways has your chamber membership benefited your business? The Middleton Chamber of Commerce has connected us with so many amazing people and incredible businesses in our area. We are able to promote each other's businesses, give and receive new clients, and most importantly it's helped us build a good relationship with the people of Middleton.
What is something you cannot live without? I cannot live without my two French Bulldog fur babies.
What's something about you that most people may not know? (favorite band, favorite food, childhood memory, etc.) Something that many people do not know about me is that I have a huge passion for Latin dancing!