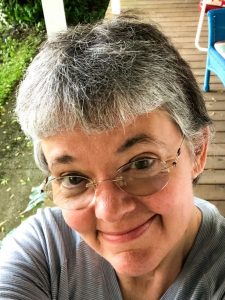 This week's member spotlight is Beth Russell from Russell Law.  Beth is a copyright and trademark lawyer, and she works with all types of businesses.  Beth has been involved with the Middleton Chamber of Commerce for over 15 years, as a Past President and most recently as emcee at Get Moving Middleton.
What do you enjoy the most about your industry? Every business has copyright and trademark issues. That means Beth's potential universe of clients is: every business. What she most enjoys is whittling that universe down to clients whose work she feels good about supporting, in industries she cares about.
How do you define success? Achieving a lifestyle in which work and personal endeavors occupy equal time in the day, with neither dictating or imposing upon the other.
Who inspires you? People who act with integrity even when doing so is not profitable.
What challenges do you face and how do you overcome them?  Beth hates talking on the telephone and has yet to overcome that challenge. (Surprisingly, however, she is quite enjoying Zoom!)
What advice would you give a young professional starting out today? Follow your true passion, no matter how scary that might feel.
In what ways has your chamber membership benefited your business? Beth says that when the Chamber first asked her to serve as emcee of Get Moving Middleton she thought the board was displaying extremely poor judgment.  The experience, however, developed a side to her that she had not previously appreciated. There was no benefit at all to her business; in fact, most people who knew Beth from GMM had no idea what she did for a living until she left the emcee position. Personally, though, the benefit was tremendous.
What is something you cannot live without? Water
What's something about you that most people may not know (favorite band, favorite food, childhood memory, etc.) Her entire middle name is the single letter "T" and it stands for Tuna Sub.