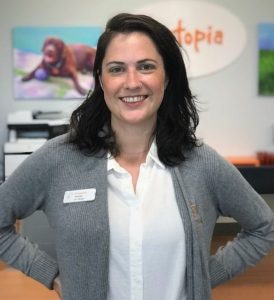 This week's Member Spotlight is Shauna Marlowe, Co-Owner & General Manager at Dogtopia of Madison West.  Dogtopia prides itself on providing a safe and fun environment for their four-legged guests through their doggy daycare, boarding, and spa services.
What do you enjoy the most about your industry? Dog care is hard work, but the staff at Dogtopia builds relationships with the dogs and the customers that transcend your typical retail or service experience. Everything Dogtopia does is for the love of the dog. They get to see dogs grow and develop and support the parents through each stage as well. They have some dogs who have been with them since their opening in 2013. That's 7 years of weekly, sometimes even daily, care. Dogtopia staff like to describe themselves as a community of dog lovers but in reality, these dogs are like family to them.
How do you define success? Working with dogs means goals are progress not perfection. Shauna says this applies to business and life as well. Success isn't measured by any particular achievement, but in forward progression.
Who inspires you? Shauna is inspired by everyone she meets. Everyone has their own story, perception, experiences and words of wisdom to share. Every new person brings potential for a new outlook or idea.
What challenges do you face and how do you overcome them?  There is a misconception about the dog daycare industry that they are elevated pet sitters, but there is so much more to what Dogtopia does.  The staff has extensive training to be able to interpret, respond to, and shape dog behavior. Shauna does her best to overcome this perception by living Dogtopia values every day – how she holds herself professionally, how she shares knowledge and how she does whatever she can to lead the industry towards high standards for care.
What advice would you give a young professional starting out today? If progress is success, find a sustainable pace to keep moving forward, but keep moving forward. Don't just do what's expected of you. Learn to be comfortable with being uncomfortable. Take calculated risks. If you come across something you don't know, don't avoid it, learn it.
In what ways has your chamber membership benefitted your business? The networking alone has been phenomenal. Every connection made has sparked inspiration. Dogtopia has added some businesses to their Perks for Pups program, which operates similarly to a teacher or student discount program and is free for businesses to participate in. They also were able to connect with the Middleton school district to establish a scholarship for Middleton high school seniors this year. On top of that, the business resources during COVID-19 have been super helpful!
What is something you cannot live without? Should be no surprise – her dogs! Shauna has a 2 year old, Flat-Coated Retriever named Louie and a 1 year old, Black German Shepherd Dog mix named Lady. Louie goes to work with Shauna.  She asks "Want to go to school?" and he runs straight to nose at his harness (called his "backpack").  Shauna loves that he enjoys going to work as much as she does.
What's something about you that most people may not know (favorite band, favorite food, childhood memory, etc.)? Shauna and her husband both have Italian heritage, which means they eat a lot of good, hearty food. Her absolute favorite is her Mother-in-Law's pesto sauce; Shauna could eat it plain and by the spoonful. So good!
Our thanks to Shauna and Dogtopia for being this week's member spotlight!