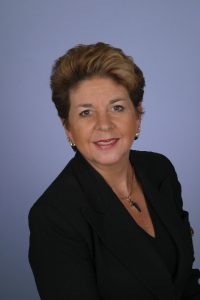 The team at The BenefitWorks helps organizations and individuals with making health insurance purchasing decisions.  Their expertise and knowledge ensure the recommendations they provide fit your specific needs. As President and CEO, Julie is proud to lead this team.
What do you enjoy the most about your industry?  Julie enjoys meeting other business owners and helping them with employee benefits, particularly the complex benefits of the healthcare industry.  When people have medical issues, Julie knows that their health insurance is paramount.  She says her industry is not stagnant – always changing and never boring.
How do you define success?  Julie measures her success in how her peers perceive her, including company representatives.  Her reputation and name is on the business.
Who inspires you?  She says she's been inspired by a lot of wonderful people.  Her dad was an insurance agent, and some of the lessons he taught her about honesty, etc., were instrumental in her success today.
What challenges do you face and how do you overcome them?  Keeping up with the industry and the changes.  Julie relies heavily on some of her connections that she has with independent insurance agency associations and other professional organizations she belongs to.  If she's not staying on top of the changes, that means her clients are not, and they need to be.
What advice would you give a young professional starting out today?  Follow your heart and what makes sense to you and what you really want to do with the rest of your career.  If it feels good inside, then go with that gut feeling.  Do what's right for your clients.  Be professional, which means staying on top of your game.  If you don't know the answer, go get it.
What's something about you that most people may not know (favorite band, favorite food, childhood memory, etc.)?  Julie loves to do acrobatic flying and has done acrobatic flying twice in a WW2 fighter.