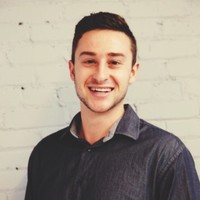 This week's member spotlight is Seth Braddock, Founder & CEO of Kilter Rewards.  Kilter Rewards allows companies to combine two of their most important engagement initiatives into one: employee well-being and charitable giving.
What do you enjoy the most about your industry?  Seth enjoys that it's a cross-section between healthy living, well-being and the social good.  He grew up in a competitive, sports-oriented family.  And now, he's able to help people stay healthy and benefit the community.  Essentially, he's created a new "industry" that makes a difference on communities and is driven by the things that make people healthy and active.
How do you define success?  Seth defines success by results and outcome.  For Kilter, that means his business is financially successfully.  Kilter's mission statement is to build a healthier world together.  By 2024, they hope to facilitate $100M in charitable impact.  If they reach that goal, it means Kilter is not only financially successful but has also made an impact on communities by being healthier.
Who inspires you?  Wes, who started Fetch Rewards, inspires Seth by the type of company he has built.  Fetch Rewards was started by Wes when he was in college, and they are very successful now.
What challenges do you face and how do you overcome them?  The biggest challenge for Seth and Kilter Rewards is finding the right market fit which will help them grow to be a sustainable business.  Seth overcomes that challenge by understanding that it's a challenge for all startups and continuing to test out different avenues and models.  By actively doing that, they are getting closer and closer to figuring that out.
What advice would you give a young professional starting out today?  Seth's advice to a young professional or college graduate would be that it's OK to go into a path that may change in the future.  Seth worked for Epic for 1-1/2 years, and he thought it would take him further down the healthcare route, but he found a passion outside of it and started his own company.  Don't be too concerned or stressed out about what you majored in in college and how that may apply to your career path; don't be afraid to change course if the opportunity presents itself.
In what ways has your chamber membership benefited your business?  Seth says he's made a ton of connections.  He really enjoys meeting people at networking events and at the Annual Celebration.  By being the Presenting Sponsor, Seth and Kilter Rewards were able to get their brand in front of people.  Seth is hoping his membership leads to more connections and friendships and continues to help their business grow.
What is something you cannot live without?  Family and fitness.  For Seth, he needs to be active and have the opportunity to work out and play sports.  He is driven by the energy that comes from that.  He's also driven by his close relationships with his family.