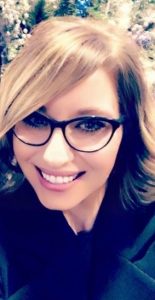 This week's member spotlight is Shannon Ratchman, Campaign Manager of Light the Night at the Leukemia & Lymphoma Society.  Light the Night delivers hope in a time of despair and life-saving research and support for cancer patients and their families.
What do you enjoy the most about your industry?  Shannon enjoys bringing lightness into the darkness of cancer.
How do you define success?  She defines success by seeing someone empowered to do something they didn't think they could do.  Making a difference is Shannon's checkered flag.
Who inspires you?  Shannon is inspired by patients.  Everyone has the opportunity to fight, but not everyone can be a survivor.  This fact makes her want to work harder so there are more survivors.
What challenges do you face and how do you overcome them?  Shannon is so passionate about the mission that sometimes it's hard to hear no.  She overcomes that challenge by channeling her passion in a way that speaks to others.
What advice would you give a young professional starting out today?  She would advise a young professional to invest in themselves and know their worth.  Shannon also says she would tell them to not overlook an opportunity because it causes fear.
In what ways has your chamber membership benefited your business?  Shannon says the Middleton Chamber of Commerce has provided the ability to connect with others, meet people with similar passions, networking and meeting new people.
What is something you cannot live without?  She keeps a notebook and pen beside her bed for middle of the night ideas.  Shannon says some of her best ideas come in the middle of the night.
What's something about you that most people may not know (favorite band, favorite food, childhood memory, etc.)?  Shannon loves to paint and uses it as her creative outlet.