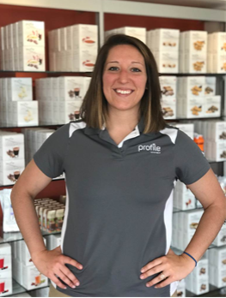 This week's Member Spotlight is Alysa Ninneman from Profile by Sanford.  Profile by Sanford offers a comprehensive wellness solution tailored to individual clients through DNA testing and one-on-one health coaching.
What do you enjoy the most about your industry?  Alysa enjoys building relationships and meeting people.  Many people don't think they can eat a certain way or lose weight.  She enjoys getting to see them "unbecome," who they were to who they become.
How do you define success?  She defines success by seeing others succeed in what she has led them toward.
Who inspires you?  Her members inspire her every day by what they overcome.  Alysa says her husband also inspires her.  He is good at helping her see the big picture as well as seeing things from a different angle.
What challenges do you face and how do you overcome them?  Brand awareness is a big challenge for Alysa and Profile by Sanford.  She overcomes that by networking, using social media, and joining groups.
What advice would you give a young professional starting out today?  Alysa would advise a young professional to not be the smartest person in the room.
In what ways has your chamber membership benefited your business?  The Chamber has benefited Profile by Sanford by helping to create brand awareness.  Alsya has built not only a lot of professional relationships but also friendships through her membership.
What's something about you that most people may not know (favorite band, favorite food, childhood memory, etc.)?  Most people don't know that Alysa competes in power lifting.