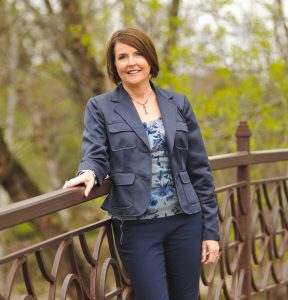 This week's member spotlight is Nancy Kalsow, Certified Life and Career Coach and Owner of Kalsow Coaching & Consulting LLC.  Nancy believes everyone deserves someone in their corner.  Someone to support them, challenge them and inspire them. "Whether you think you can or think you can't you're right". (Henry Ford)
Isn't life grander when you think and know you can? As a business consultant, she invites leaders to Get R.E.A.L. With Nancy, as they Reflect. Evaluate. Act. Listen. She encourages businesses to leverage the talents of their team members and create an environment where the best versions of WHO people are brings the highest level of performance to WHAT they do.
How do you define success?  Knowing who you are, doing what you love, and having something to hope for.
Who inspires you?  I'm inspired by my fellow coaches, my clients, and those who have been in my corner over the years.  Not mentioning any names because I'd surely miss someone.  If I had to pick someone you might all know – Ellen DeGeneres – Be Kind.
What is something you've learned in the last year, industry related or not?  The power of collaboration. I never realized how important it is until I became an entrepreneur and I couldn't walk to the next cubicle to get it.
What challenges do you face and how do you overcome them?  My biggest challenge is determining how to have the greatest impact to support the greatest number of people on being their greatest self.  I'm overcoming it by sharing my mission of helping people and businesses succeed through reflection, connection, and reception of our unique talents.  One "starfish" at a time. (Read More HERE)
What's the best advice you've received?  Go M.A.D. Make a difference.
What advice would you give a young professional starting out today?  Know who you are, what is important to you and why.  Loving yourself and living true to who are is more important than any amount of money you can make.
What is something you can't live without?  Peanut M&M's.  And friends – the real "laugh until you cry" sort of friends.
What's the best concert or show you've ever attended?  New Kids on the Block with Boys to Men as the opening act. This has more to do with the company of two very special nieces I chauffeured to Alpine Valley for their first concert in 1992. Our New Kids on the Block reunions are the best.
What's your favorite food?  Peanut M&M's.  Is that a food?  Yup, I can make a whole meal out of them.